Rawhide Braider Masters Idaho Cowboy Art
August 30, 2018
By: Olivia Weitz
Most of the things we use everyday aren't built to last. But, that's not the case for the cowboy gear Jeff Minor makes. He sources raw materials to create one-of-a-kind pieces.
Minor is preparing a cowhide outside of Salmon, Idaho. He's about to remove five pounds of a cow's flesh and its hairy coat. The hide is spread out on the driveway in front of his house.
"Try to get it fleshed right down to the white hide itself," Minor says. "Don't leave any red. No white fat."
Minor is not a butcher, though. He's a rawhide braider.
As he works in his driveway, Minor talks through the process.
"It's a little on the thinner side; it's a young animal, so probably we'll be using it more for reins and romel," he says.
Minor says it's also possible to make bolo ties, hatbands, stampede strings and other pieces of cowboy gear out of rawhide.
In Idaho's pioneer days, cowboys made this kind of gear using strips and strands of cowhide. Minor continues this tradition. He also makes saddles and engraves silver. He's a cowboy artist and sometimes that means relying on physical strength.
"I'm starting to sweat a little bit now," says Minor. "It's getting a little warm. Even though it's a cool morning. Fleshing these off is work."
There are times when Minor wonders, 'Why do I go to this trouble to prepare my own hides?' He could buy hides from a tannery. But, then he'd be missing something.
In his mid 50s, Minor has seen his work last a long time: A grandfather who bought one of his saddles recently passed it down to a grandson. Idaho's Governor and the Idaho Commission on the Arts took note of Minor's artistry this year, honoring him with the Award for Excellence in the Folk and Traditional Arts.
The flesh is off the hide. Now it's time to remove the coat.
"Stir it around like a big soup," Minor says. "It's probably gonna take about 10 minutes or so for this hide to loosen up the hair on it."
The hide is now in a barrel of hot water. Soon, the hair pores will open up. This will allow him to scrape the thick coat off this Scottish Highlander.
Minor's been braiding with rawhide since he was a teenager. His father taught him how. Back then, he made cowboy gear out of necessity, working on ranches in Nebraska and Colorado. When he moved to the Salmon area, though, that's when he really started experimenting with preparing his own cow hides.
"I would throw some hides in the river here and slip the hair that way. A lot of time it took two weeks to get it done. You pull the hide out and you got a bunch of mud and silt and stuff on it," Minor recalls.
Minor doesn't do it that way anymore. He prefers to use the hot water method.
"There we got just little bit of slippage," Minor says. "You can pull it out with your fingers."
After the hair is removed, the hide is left to dry. In a couple of weeks, he will cut strings to use for his braiding projects. He has a long list of orders to fill this fall.
In his workshop, Minor has several projects underway. Besides the usual horse gear, he's currently working on a bracelet. He demonstrates his process.
"So, I will take and pull that string a little," Minor says. "And then the process is I go under two strings, over two strings and under two strings."
"Rawhide was a living thing. And it's still alive, because it's constantly moving with humidity and temperature. It's constantly shrinking; it's swelling up. Horse sweat can have an effect on it. It's pulling in moisture whether it's sweat or rain."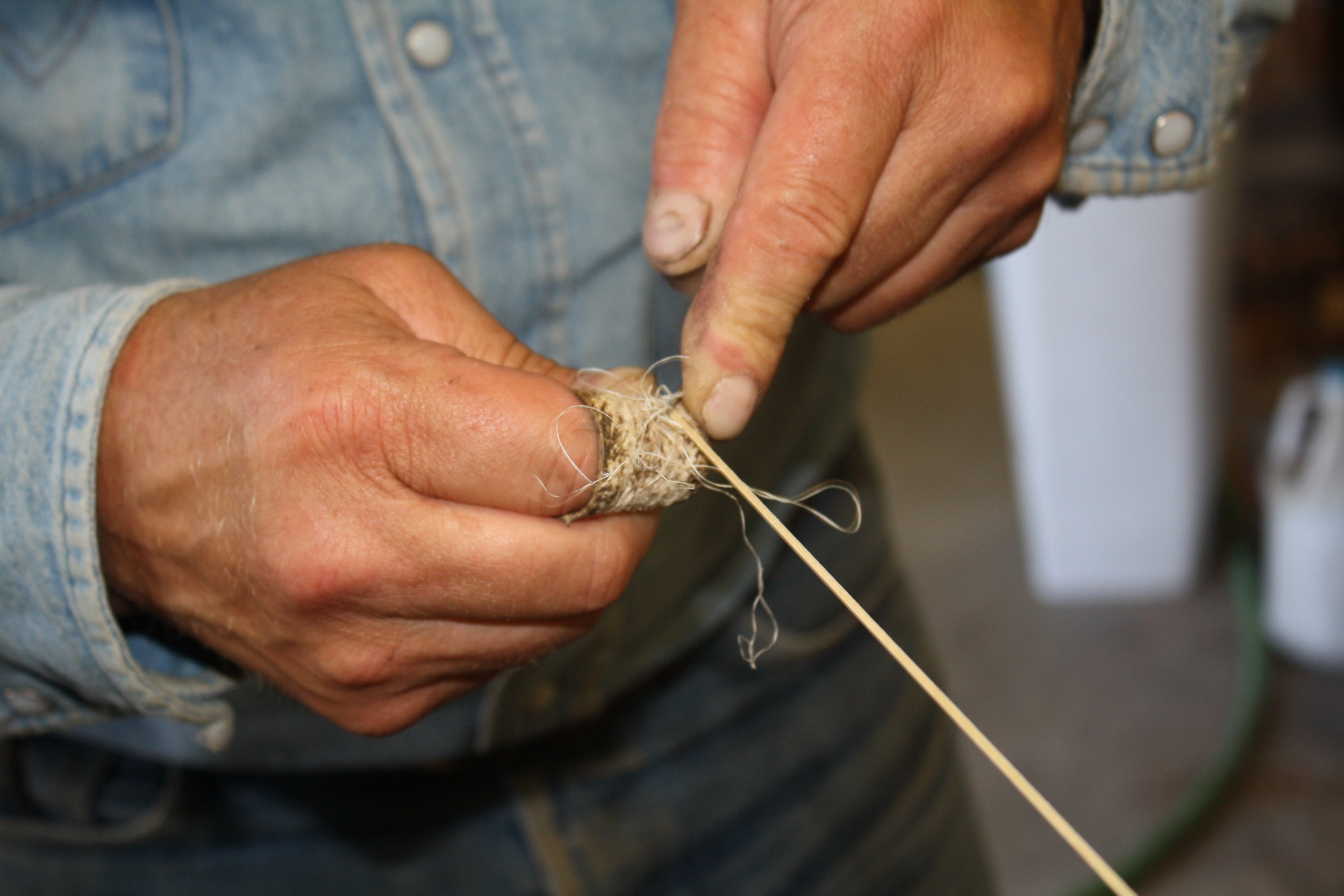 Not far from Minor's workshop is a horse pasture. He introduces his horse, Indy, and the gear he's made for her.
"She's about six years old," Minor says. "I'm going to rig up this hackamore here for her."
The hackamore is a nosepiece that's also beautiful: braided with a herringbone pattern. But first and foremost, Minor intends for his gear to be functional. After its working life, this horse gear may be displayed in a tack room or hung on a living room wall, serving as a reminder of where the rawhide came from.
"It came from somebody out there in the weather, in the rain, riding a saddle, taking care of those cattle to produce for us," Minor says.
Minor's creations are functional works of Idaho art. They take weeks to make and last a lifetime.
Braiding has become muscle memory. And he's developed some quirks.
"I will take my tongue and just touch my tongue to the braid were I'm braiding at, and that will put just enough moisture right there where I need that string lay into the braid nicely."
Minor literally puts himself into his work and it frustrates him when others don't.
"So many people today don't really excel at anything," Jeff says." "They don't have a goal in life to say that, 'I want to be the best ditch digger that there ever was' or, 'I want to be the best accountant.'"
Minor has some advice:
"There has to be a drive. There has to be a goal and then you have to strive for that with everything you've got. Every fiber you have to put towards that because if you don't, it's not going to be your best. It's not going to reflect you."
This piece was produced for the series Expressive Idaho in partnership with the Idaho Commission on the Arts' Folk and Traditional Arts Program and with funding support from the National Endowment for the Arts.