A Traditional Art Form Is A Family Affair: Indian Dance In Boise
July 30, 2018
By: Olivia Weitz
For Padma, it's not always clear when to be a mother and when to be more like the strict Indian gurus who taught her Bharatanatym: the classical Indian dance form she's now passing on to Alekya. She recalls one grueling session when:
"I could see that she physically really at the end of the rope, but she was fighting through exhaustion, fighting through pain."
Alekya was determined to finish – and Padma didn't let her off the hook.
"It was hard at that time to not really stop her as a mother and say, 'that's okay, you've done your part for today,'" Padma recalls. "But I had to look at the bigger picture: as a teacher, this is what my teacher would do."
But when the lesson was over, the teacher, once again, became the mother.
"I hugged her," says Padma. "There were tears. I said sometime I'm sorry. I just massaged her legs. The mother in me did that."
This summer Alekya took what she's been practicing to the stage, in a performance at the World Village Fest in downtown Boise.
Alekya wears traditional Indian pants, the kind that tighten at the ankle. With the capitol as a backdrop, she begins with a standing pose and then launches into a sequence of highly choreographed dance steps. She calls it:
"A Krishna Push Panjalee, which is like an offering to the God and basically the start of a dance routine."
But off stage, mother and teacher Padma is nervous.
"There was a bit of apprehension in me whether she would miss a beat, whether she'll miss any step," Padma says. "That was the teacher in me. Even though the teacher in me was highly confident based on what she's been practicing, the effort she's been putting and her passion and her the experience over all these years."
Alekya is able to maintain the rhythm and the step to the sollukattai of the musical rhythms without missing a single beat. Padma's worry soon fades and she starts to get this feeling, like they are on stage ... together.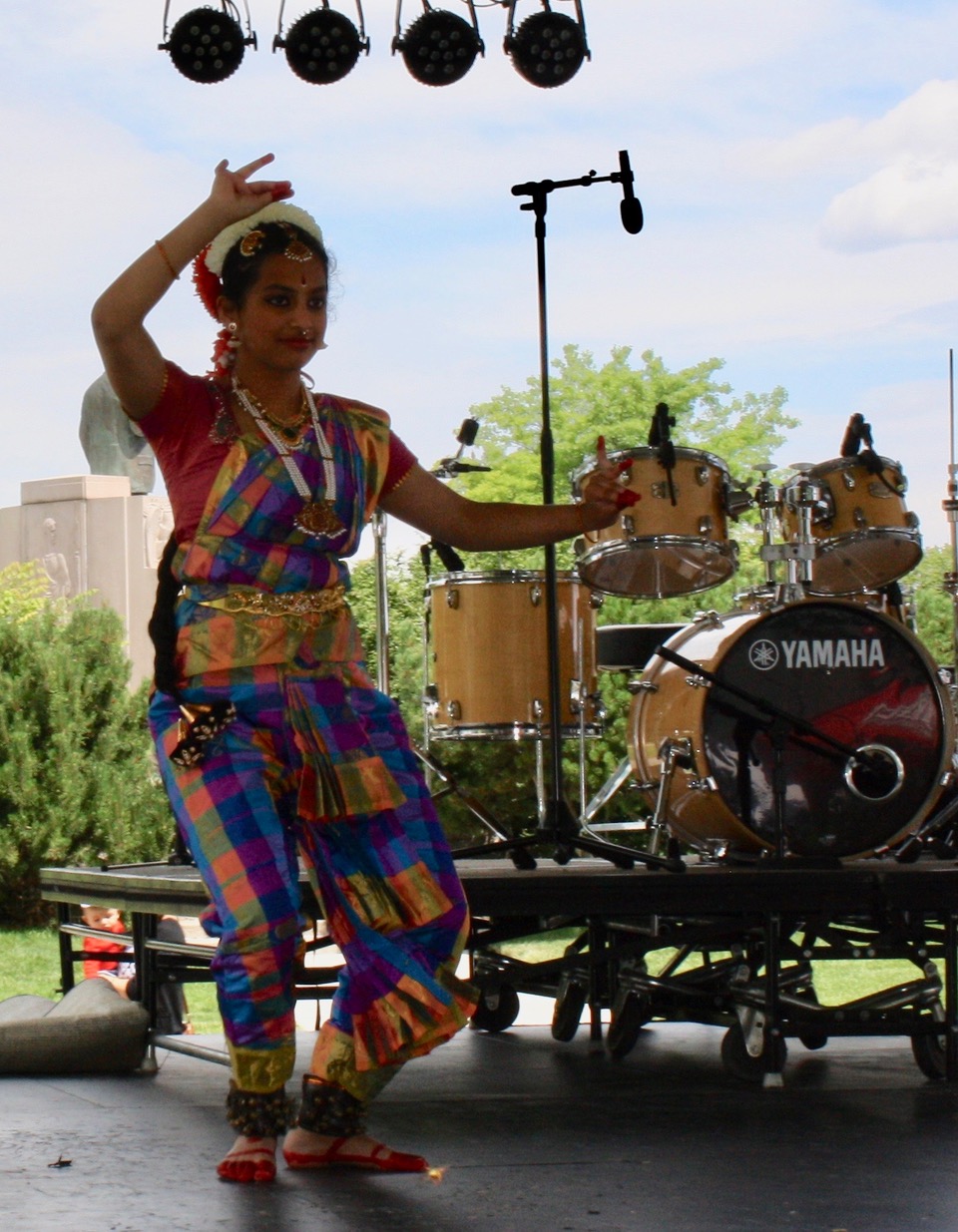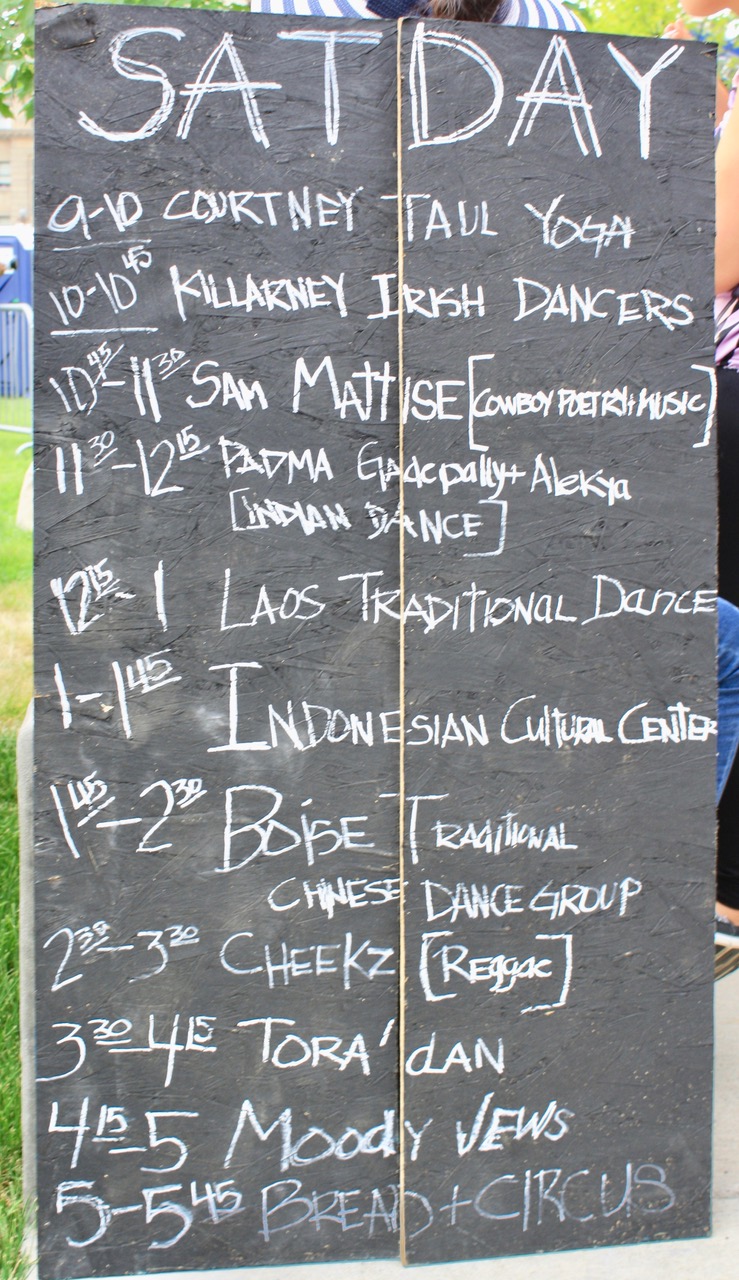 This piece was produced for the series Expressive Idaho in partnership with the Idaho Commission on the Arts' Folk and Traditional Arts Program and with funding support from the National Endowment for the Arts.
Performers of Indian dance often rely on dramatic facial expressions and hand gestures to entertain and tell stories. Their bright costumes and eye makeup may stand out the most for those who are unfamiliar with the South Asian art form, or have glimpsed it only in Bollywood films. But those expressions and gestures are rooted in ancient Indian folk dance and classical forms like Bharatanatyam: a dance with spiritual qualities that has been performed in South Indian temples for centuries.
Boise's own Padma Gadapelly has studied Bharatanatyam so extensively that last year she was designated a master artist in the Traditional Arts Apprenticeship Program run by the Idaho Commission on the Arts.
And Gadepally's apprentice? Is her very own daughter: Alekya Tanikella.
In an upstairs room of their home, Padma and Alekya rehearse a set of dance steps. The mother pats her hands on the carpet, showing her student where her feet will go.
"I'm using my hands here in the place of the dancer's feet," she explains. "So to show that she has to start with right foot, I'm starting my left hand here, so it's mirror image for the dancer."
Alekya is quiet for a 13 year old. She's used to the regiment here in the room, transformed by a prayer rug slung over a mattress against the wall.
"A good day is when first of all I can remember all of the steps," says Alekya, "and then I can also get the expressions and the speed and everything comes together. A bad day is when it doesn't really work out so well."
These are good days for Alekya and Padma. The Idaho Commission on the Arts' Folk and Traditional Arts program awarded them a grant for passing on cultural skills.
Alekya says watching her mother is what inspired her to learn how to dance.
Back in the practice room at their home, the session is winding down.
"Go ahead and take the Namaste to Lord Nataraja, and then come to me," says Padma to her daughter.
For Alekya, classical Indian dance and the emotions she harnesses while performing it have poured into other parts of her teenage life.
"I've learned how to express myself in any other place like in school, in music, anything else," she says. "And I've also learned how to become more confident in myself."
Alekya plans to continue dancing. Now that she has the footwork down, she wants to work more dramatic expressions into her routine. For help with that, she says she'll look to her mother.